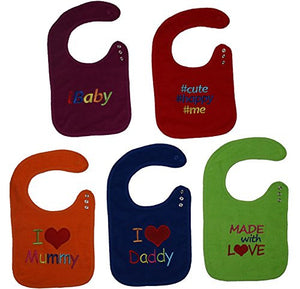 New8Store
BEST Baby Fashion Bibs With Snaps Closure (5 Pack) Bibs 5-Pack Unisex Colors
Regular price
$ 23.99
$ 0.00
Baby Stocking Stuffers - 5 MULTIPLE COLORS PERSONALIZED DESIGN FASHION BIBS - 5 Colorful Unisex Color WITH UNIQUE EMBROILED DESIGNS Baby Bib Set that fits for baby boys and baby girls ; and toddlers; 5 pack with a variety of colors for flexibility and value
NATURAL, SOFT, HIGH ABSOBENT FASHION BIBS CUSTOM DESIGNED For TODDLERS- Made with 2 layers highly absorbent Terry cotton fabric. The front and back layers are made with 100% Natural Thick and Soft Terry Cotton. These bibs are SO UNIQUE as we hand make them with chosen 100% pure terry cotton. They are GREAT DROOLING FASHION BIBS!
FLEXIBLE THREE SNAPS POSITIONS & REVERSIBLE - and SO FLEXIBLE that it fits new born to 3 years old toddlers. Using snap buttons are more comfortable compare to Velco closure, and not easily pull out by your babies – it is truly hassle-free. You can reverse front and back when you wear the bib. One side left with stain, just reverse and use another side. This makes your bib more reusable, and value for the money!
MEANINGFUL, CUTE AND TRENDY MESSAGES on bibs: "I LOVE DADDY" , "I LOVEMUMMY", "iBABY", "Made With Love", and "#cute #happyy #me". These are truly best bibs to wear when you bring your baby out for outdoor activities.
BEST GIFT FOR BABIES & TODDLERS - Ideal Gift for new mom , baby shower , childcare centers and holiday presents. We offer 60 Days Money Back Satisfaction Guarantee!
AMAZING DISCOUNT DEAL! -Buy TWO and GET SECOND ONE AT $4.00 OFF. Buy FOUR SAVE $8.00! Enter coupon code # PM4DLOFF at checkout.
CHARIS KID 100% Cotton Fashion Baby Bibs with Three Snaps With Unique Embroidery Designs(5 Pack Set)
Troubled with your baby/toddler drools non-stop or spit up? Have to change baby cloths and bibs many times a day?
-Cloth bibs are not water proof, leaving wet clothing that are smelly and hard to clean. The worst is when your baby has sensitive skin and starts developing rashes due to the wet clothing.
- Plastic-made backed layer makes your baby's skin uncomfortable?
- Silicone bibs are too stiff and not comfortable to wear for longer time.
- Scratchy Velcro on tender baby necks.
- Baby bib becomes too tight to fit on baby's neck when baby is growing bigger
CHARIS KID 100% Cotton Baby Bibs will solve your problems!
- Two Layers Protection – with two soft, thick absorbent outer 100% Terry cotton layers. It is so SOFT and QUIET, Yet HIGHLY ABSORBENT!
- Three Snap Buttons perfectly position to fits the neck size of new born babies to toddlers
- Colorful FIVE Pack Set for both boys and girls
- Generous Size: unique shape for maximum coverage
- Made with Non-toxic material
- Easy to care for as it is to use.
Package contents:
5 pcs of Multi Colors Baby Bibs; Net Weight per bib: 45oz; Size of bib: 8 X 12 inches
BONUS:
FREE Baby Care eBook
- gives you insight on different topics about raising your baby
This product is covered with 60 days Money Back Guarantee! Place your order to Get Them RISK FREE NOW!
---
Share this Product
---