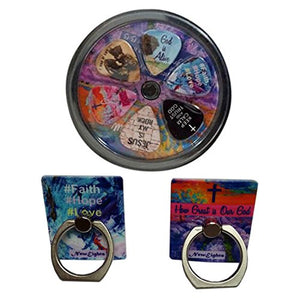 New8Store
Christian Guitar Picks & Cell Phone Holders (How Great is Our God & Faith Hope Love)
Regular price
$ 18.99
$ 0.00
Fathers Day Gifts - Christian Guitar Picks (12-Pack) & Cell Phone Holders (2-Pack) (How Great is Our God & Faith Hope Love)
How Great is our God - MEANINGFUL CHRISTIAN GUITAR PICKS WITH INSPIRATIONAL MESSAGES — If you search for unique guitar picks on Amazon, these picks that come in designs that have an inspirational personalized Christian messages. They're truly unique, cool and uplifting messages to encourage yourself, your friends, and your loved one.
SUITABLE FOR MULTI PURPOSE AND ARTS & CRAFTS — Not only can these awesome picks be used for guitar playing, but for personal collection, Witnessing and Evangelistic Tool, Door Gifts, Fashion Jewelry Craft Charms making as well. They are absolutely multi-purpose.
BEST GREAT GIFT CHOICE FOR MUSIC LOVERS — These guitar picks would be wonderful as gifts to anyone who are into music and guitar playing, regardless of whether they're still beginners or are already experts. These are perfect presents / gifts for Easter Day, Birthday , New Year, Father's Day, Baptism , New Christian , Thanksgiving , Christmas , and Graduation.
100% SATISFACTION GUARANTEED — With NewEights, you can trust that you'll only be getting products that are top of the line. That is why for a show of good faith, we'll give you a 60 days money back guarantee if you buy from us!
Ideal gift for music lovers on all holidays!
Superior quality meets style and durability with this 12-pack guitar picks that are made of colorful pearl celluloid. With 0.71-mm thickness and guitar size, it has been designed optimally for easy grip and use.
Every guitarist owns a mobile and with that being said, we designed a set of guitar picks that comes with a phone holder. Both our guitar picks and phone holders carry the Lord's message from your fingers to your audience. These items have personalized designs with meaningful messages that will encourage the player and share God's love. Thus, these are a perfect offer for all Christian musicians out there!
This product comes with 12 beautifully designed guitar picks and 2 pieces of inspirational phone holders plus you get an awesomely designed tin box that keep your picks altogether. This is a handy way to bring your picks anywhere and stop them from getting lost. Our guitar picks and phone holders while professionally designed, they are also quality and durable. Customer satisfaction is our top priority and these picks are covered with 60 days money back guarantee. So every customer should feel safe in his purchase.
If you are looking for a great holder for your mobile and picks, then this product is a great deal for you. Feel free to try them out and celebrate God's love through your talent in music.
Get yours NOW!
---
Share this Product
---