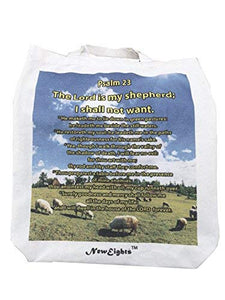 New8Store
Christian Large Canvas Tote Bag Psalm 23 KJV The Lord is my shepherd - Great meaningful Gift Idea Church Faith Reminder
Regular price
$ 8.99
$ 0.00
Christian Bible Verse Psalm 23 (KJV) "The Lord is my shepherd; I shall not want." theme large canvas tote bag for men, women, teens, boys, girls, and kids
Premium quality 12oz polyester cotton white tote bag
Extra large tote bag , foldable ; expandable, reusable. Dimension: 15.75 * 13.8 * 4 inch.
Great for storage, grocery, picnic, market, work, travel, library books, reusable shopping, large lunch tote bag, gym tote bag, nursing bag
Great meaning Gift Idea , Church Give Away , Faith Reminder , Baptism, Church Events
A Versatile Bag Perfect for Church Goers


Tote bags are a favorite among Church's and congregations. Christian Large Canvas Tote Bag Psalm 23 KJV The Lord is my shepherd; is expandable and reusable.

The bag is great for storage, grocery, picnic, market, work, travel, library books, shopping, large lunch tote bag, gym tote bag, and nursing bag, Bible study or prayer group meetings. So whether you?re off to the gym, grocery shopping, or on a family trip, this Christian tote bag shares the heart-filled message that about the great Shepherd. And now you can tote Psalm 23 bag and pass along this beautiful message to others.

The polyester cotton material of the Psalm 23 Tote Bag is durable and easy to carry wherever you go, with two convenient handles sew at the top. This tote bag richly communicates the Scripture verse of Psalm 23 and displays an inspirational, positive and uplifting message. The tote bag is perfect gift idea for teachers, students, and Sunday school group leaders.


This product comes with a 60 days money back guarantee. If you are not satisfied, you can return them to us for a full refund.
Get yours NOW!
---
Share this Product
---