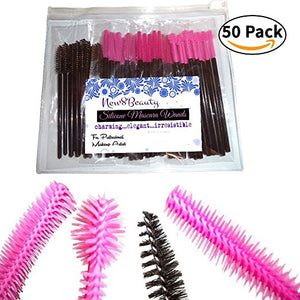 New8Store
Disposable Silicone and Nylon Eyelash Mascara Wands Brush Set. 50 PC
Regular price
$ 18.99
$ 0.00
Stocking stuffers for Women — The whole set consists of 50 mascara wands that come in four different kinds so they'll be suitable for anyone regardless of their eyelash type and what they're going to use the brushes for.
PERFECT FOR PROFESSIONAL MUAs — If you're a makeup artist and you find reusing mascara wands unhygienic, this 50-piece bulk pack will be perfect for you and will last you a long time.
GREAT FOR ON-THE-GO AND EVERYDAY USAGE —Included in this set is a high-quality reusable pouch which allows you to store away your mascara wands safely or to bring them with you anywhere you go.
DURABLE & OF PREMIUM QUALITY — Unlike other brands in the market, beauty products from New8Beauty are expertly crafted so even if these silicone and nylon mascara wands are disposable, they are still first-rate.
It is on sale now and buying a set today will allow you to save as much as In addition, it is covered by a 30-day money back satisfaction guarantee!
YOUR SEARCH FOR THE PERFECT MASCARA WANDS CAN STOP HERE
• Do you require different kinds of brushes for all your mascara application needs?
• Are you looking for premium-quality mascara wands to replace your used ones?
• Do you find it very unsanitary to keep using the same brush over and over again?
Then there's no need to look further!
New8Beauty 4-Variety Disposable Eyelash Mascara Wands 50-Piece Bulk Pack is here for the taking!
This package contains the following kinds of mascara brushes:
• BLACK ROSES (14 pcs): Have flexible brush heads which can be bent slightly according to your preference.
• PINK STRAIGHT (12 pcs): Provides natural looking volume and makes your eyelashes seem longer.
• PINK CURVE (12 pcs): Perfect for those who are looking for some extra curl and lift.
• PINK SPHERE (12 pcs): Great for defining each lash and making the eyes look bigger.
Our company, New8Beauty, takes pride in providing PREMIUM-QUALITY beauty products so you'll never go wrong with us!
And for a show of good faith, we will give you a 30-DAY RISK FREE MONEY BACK GUARANTEE when you order!
So, what are you still waiting for?
Click the yellow "Add to Cart" Button at the top of this page to get the New8Beauty 4-Variety Disposable Eyelash Mascara Wands today!
---
Share this Product
---