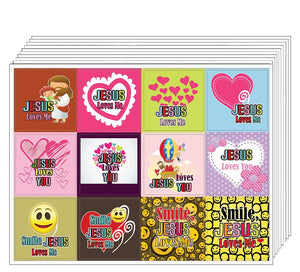 NewEights
Jesus Loves You Stickers (10-sheets) - Christian Stocking Stuffers for Kids, Boys, Girls - Great Gifts for Party Favors, Sunday School Easter Thanksgiving Christmas Children Day Classroom Rewards
Regular price
$ 8.99
$ 0.00
JESUS LOVES YOU STICKERS - Comes in 10 Sheets. Individual Sticker Size: 2.1x2.0 inches.
PREMIUM QUALITY – made from quality materials and they are self-adhesive and comes in 10 sheets.
SAFE FOR CHILDREN. Stickers contain no acid or lignin. Long lasting and perfect for scrapbooking and Sunday schools!
GREAT INSPIRATIONAL AND ENCOURAGING GIFT IDEA. Stickers are a great gift for any loved one or friends.
MONEY-BACK GUARANTEE. This item comes with a 60 days money back guarantee.
Assorted Mega Pack of Jesus Loves You Stickers

Jesus Loves Me

COLORFUL AND COLLECTION OF STICKERS

• Well designed.
• Very encouraging.
•Self-adhesive.

Jesus Loves You stickers are super fun to collect; you can't have just one! That's why you will find a selection of stickers right here. Each package comes with different stickers in a variety of shapes and sizes, colors and designs. Stick them here, stick them there, stick them everywhere!The kids will love these self-adhesive stickers that affirm God's love to them. These colorful stickers are perfect for kids with their inspiring messages and bright pictures.

Small stickers that make a big statement of Christian faith! A fun, inexpensive way to add a decorative, Christian-inspired touch to scrapbooks, notes, and stationery. Delight your kids with uplifting messages designs that are very encouraging. Jesus Loves You Stickers perfect for giveaways, behavior incentives, prizes, Sunday schools and bible studies! These stickers are acid-free, non toxic, and safe for use on photos.

This product comes with a 60 days money back guarantee. If you are not satisfied, you can return them to us for a full refund.
Get yours NOW!
---
Share this Product
---