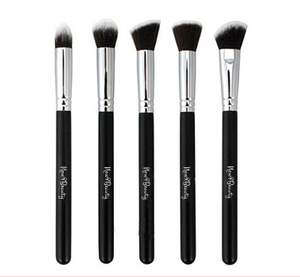 new8store
New8Beauty 5 pcs Mini Kabuki Makeup Precision Brushes Set
Regular price
$ 11.99
Sale price
$ 39.99
New8Beauty 5 in 1 Mini Kabuki Makeup Brushes Set + FREE Black Leather Pouch
Why Choose New8Beauty Professional Kabuki Makeup Brushes Set?
• Ultra Soft Synthetic Bristles
• Hypoallergenic, Cruelty Free, Vegan Friendly
• Easy makeup application.
• FREE Black Leather Pouch to organize makeup accessories.
Functionalities of New8Beauty Professional Mini Kabuki Make up Brushes:
• Mini Foundation (Flat Top): Best for stippling concealer onto sun spots.
• Mini Concealer Stippling (Tapered): Best to cover and gives a flawless finish for hard to reach areas, including corner of the eye, eyelid, and under the eye areas.
• Mini Cheek Blush (Angled Round): Complement for applying and blending out blush and highlighter. Apply Bronzer along the hairline, jawline and contours of the cheeks to give blended definition.
• Mini Minerals & Powder (Round): Best for complement to minerals and powder finishes.
• Mini Precision Contouring Bronzer (Angled Flat): Combines the blending application and contouring application of both brushes - FLAT Top & ANGLED, complement to give you precise contouring any part on your face.
We have FULL 60 Days Unconditional Money Back Guaranteed!
If you try it and not satisfied, return it for a full refund. Order these professional brushes Risk FREE NOW!
---
Share this Product
---