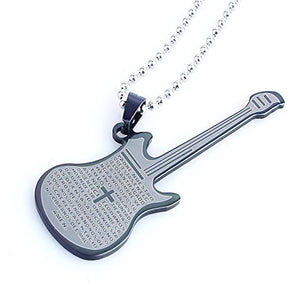 new8store
NewEights Guitar Cross Pendant Necklace
Regular price
$ 12.99
$ 0.00
Stocking Stuffers for Men Women Guitarist - Quality Crafted – footprint cross pendant and chain necklace are beautifully designed and are made from premium quality steel.
The material will not easily rust – the stainless steel will not corrode over time, despite being used on a regular basis.
Great gift idea – can be given to yourself, loved ones, friends and family on different occasions.
Display your faith and passion in music – This guitar cross pendant displays the belief of the wearer and his passion in music in a fashionable and trendy way.
No Risk 60 Days Money-back Guarantee – Product comes with 60 days money back guarantee.
PERFECT ACCESSORY TO SHOW THE WORLD YOUR FAITH WHILE NOT SACRIFICING FASHION

Showcase your commitment to your faith and your passion in music

• Superior grade steel.
• Great gift idea.
• Great way to display your faith.

NewEights Guitar Cross Pendant Necklace is a stunning piece of musical jewelry that will catch everyone's eye! This is designed for guitar and music enthusiasts out there who love to display their devotion and faith.The necklace is made from quality stainless steel and this shows your unique passion for instrument or music art and your faith.

Since the necklace is made from high quality stainless steel, it has a high resistance to rust, corrosion and tarnishing which saves you time maintaining it. Also the durability of this necklace is simply amazing.

This necklace is perfect for music lovers and those who prefer wearing a silver chain rather than gold. All makes it a top fashion accessory to complement your wardrobe with the sleek, contemporary styling.

This product comes with a 60 days money back guarantee.

If you want to show your commitment to your faith and your passion in music, then this statement necklace is such a perfect combo of style and passion!!
---
Share this Product
---