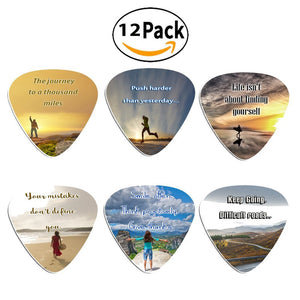 New8Store
NewEights Guitar Picks with Inspirational Quotes (12 Pack)
Regular price
$ 13.99
$ 0.00
FATHERS DAY GIFT IDEA - Gifts Stocking Stuffers - Guitar Pick with Great Inspirational Quotes
12 PACK SETS WITH SIX UNIQUE DESIGNS - Push harder than yesterday if you want a better tomorrow, Life isn't about finding yourself. It's about creating yourself. George Bernard Shaw, Smile often. Think positively. Give thanks. Laugh loudly. Love others. Dream big, Keep going. Difficult roads often lead to beautiful destinations. The journey to a thousand miles begins with a step. Lao Tzu, Your mistakes don't define you. Press on. Never give up!
MEANINGFUL GUITAR PICKS WITH INSPIRATIONAL MESSAGES — our picks come in designs that have an inspirational quotes. They're truly unique, cool and uplifting messages to encourage yourself, your friends, and your loved one
MADE FROM QUALITY MATERIAL - Premium Celluloid material, medium gauge 0.71mm in thickness
BUYER PROTECTION - comes with a 60 days money back guarantee.
COLORFUL AND GREAT ASSORTMENT OF INSPIRATION QUOTE GUITAR PICKS!

Great Variety of Inspirational Guitar Picks.

• Well designed.
• Very encouraging.
• Great quotes to ponder upon.

Our NewEights Inspirational Quotes Guitar Picks contain inspirational quotes that would want you to pick up and play your guitar. Low quality of guitar picks can make the sound unappealing and disappointing. Our plectrums are made from quality celluloid material that are made from high quality materials that will ensure an authentic sound.

In addition, our picks carry quotes and sayings to help inspire, motivate and encourage the user. So these guitar picks do more than just strumming your guitar, but they can also be used as a piece of reminder, encouragement and wisdom. So the user can rock out and be encouraged with our NewEights Inspirational Quotes Guitar Picks.

This product comes with a 60 days money back guarantee. If you are not satisfied, you can return them to us for a full refund.
Get yours NOW!
---
Share this Product
---