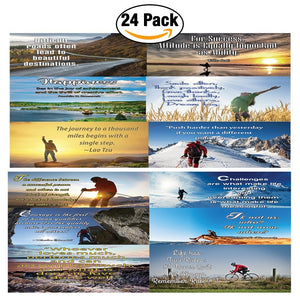 New8Store
NewEights Life Inspirational & Adventure Motivational Quotes Posters (24 Pack) - 12 Unique Designs ( 2pcs each)
Regular price
$ 28.99
$ 0.00
NewEights Life Inspirational & Adventure Motivational Quotes Posters (24 Pack) - 12 Unique Designs ( 2pcs each). Assorted posters– comes with 12 different designs within the set. Dimension of the posters: 11.2 in x 16.5 in (A3 Paper Size : 285mm x 420 mm).
VALUE BUY - 24 pcs of Assorted posters – comes with 12 different unique designs within the set. Dimension of the posters: 11.2 in x 16.5 in (A3 Paper Size : 285mm x 420 mm).
Nice and customized design. Our posters come with inspirational, motivational, encouragement meaningful messages.
Nice way to boost up encouragement and motivation. Perfect for Home, Office, Schools, Room Decoration Collection & Gift with Inspirational, Motivational, Encouragement Messages.
Premium Quality - the front page of the posters is coated and water resistant.
12 Unique Inspirational Poster Design Assorted? (12 X 2 pcs each - Pack of 24)

Posters with Inspirational & Encouraging Messages. Our posters come with inspirational and motivational quotes have the power that will help us get through a bad week, and can even give us the courage to pursue our life's dreams. With this set of posters, you will have 12 poster designs that you can choose from.
Encouraging quotes include:

• Difficult roads often lead to beautiful destinations.
• For success, attitude is equally important as ability. Walter Scott
• Happiness lies in the joy of achievement and the thrill of creative effort. Franklin D. Roosevelt
• Smile often, think positively, give thanks, laugh loudly, love others, dream big.
• The journey to a thousand miles begins with a step. Lao Tzu
• Push harder than yesterday if you want a different tomorrow.
• "Whoever loves much, performs much, and can accomplish much, and what is done in love is done well." – Vincent Van Gogh
• "Courage is the first of human qualities because it is the quality which guarantees all others." – Winston Churchill
• The difference between a successful person and others is not a lack of strength, not a lack of knowledge but rather a lack of will. – Vince Lombardi
• Life has Two Rules: #1 Never Quit #2 Always Remember Rule # 1.
• If not us, who? If not now, when? – John F. Kennedy
• Challenges are what make life interesting and overcoming them is what make life meaningful. – Joshua J. Marine
This product comes with a 60 days money back guarantee. If you are not satisfied, you can return them to us for a full refund.
Get yours NOW!
---
Share this Product
---