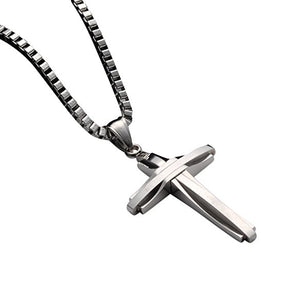 New8Store
NewEights Stainless Steel Cross Necklace
Regular price
$ 13.99
$ 0.00
Superior grade steel – cross and chain necklace are beautifully designed and are made from premium quality steel.
The material will not easily rust – the stainless steel will not corrode over time despite being used on a regular basis.
Great gift idea – can be given to yourself, loved ones, friends and family on different occasions.
Display your faith – This believer's pendant cross displays the belief of the wearer in a fashionable and trendy way.
Customer's protection warranty – Product comes with 60 days money back guarantee.
PERFECT ACCESSORY TO SHOW THE WORLD YOUR FAITH WHILE NOT SACRIFICING FASHION

Add a touch of class to your faith statement!

• Superior grade steel.
• Great gift idea.
• Great way to display your faith.

Having any pieces of jewelry adds a touch of class, and when those side pieces are cross necklaces for men and women then the appeal can simply not be understated. Stainless Steel jewelry has been around for a long time ie: rings, necklaces, bracelets etc..

In today's world with new technology and advancement of more proficient tools, the style and fashion of Stainless Steel jewelry have taken on a whole new meaning. The room for creativity has expanded greatly and has made the making of stainless steel more of a work art.

Stainless necklaces with cross pendants are the perfect accessories to show the world your faith while not sacrificing fashion. NewEights Stainless Steel Cross Necklace is a high quality steel which does not rust or corrode even after years of regular usage. The exquisite men's cross pendant is solid and displays the user's open affection to his faith.

This product comes with a 60 days money back guarantee.

If you wanted to share your faith, without sacrificing style and fashion, then NewEights Stainless Steel Cross Necklace is perfect for you!

Get yours NOW!
---
Share this Product
---