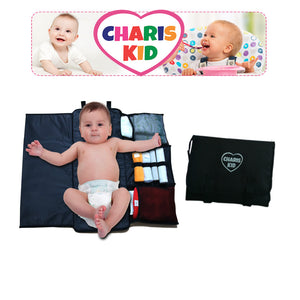 new8store
Charis Kid Portable Diaper Changing Pad
Regular price
$ 9.99
Sale price
$ 29.99
Baby Stocking Stuffers - EASY TO CLEAN - waterproof, wipeable mat folds out wide and large can save you laundry by not having to wash the cover, hence more sleeping time for you. Instructions: Before first use wipe down with baking soda and warm water, or liquid dish soap. Wipe off with a damp paper towel then air dry.
HYGIENIC AND COMFORTABLE - Who wants poop and pee getting on fabric? The sanitary way to change your baby whether at home or on the go. It is fully padded for baby's comfort while protecting your child from dirty surfaces and offers a great barrier from touching nasty changing table
PORTABLE AND CONVENIENT - Charis Kid Changing Pad folds easily and tucks away into virtually any bag or glove compartment. Its handy carrying strap can be attached to any stroller
BEST BABY SHOWER GIFT for new mom and dad, they will thank you later!
BEST GIFT FOR BABIES & TODDLERS - Ideal Gift for new mom , baby shower , childcare centers and holiday presents. We offer 60 Days Money Back Satisfaction Guarantee!
AMAZING DISCOUNT DEAL! -Buy TWO and GET SECOND ONE AT $4.00 OFF. Buy FOUR SAVE $8.00! Enter coupon code # PM4DLOFF at checkout.
You will need this if you …
• Worry about getting a mess on the sheets or mattress during diaper changing?
• Nervous about the billions of germs flying around on the public changing tables?
• Tired of keep changing your bedsheet when there's a poo-diaper disaster?
• When there is no changing shelf available in places such as airplane bathroom, floors, guest beds, on uneven ground outside, and the like
• Looking for a great baby shower gift or gift for your baby registry
• Want to make your life easier
With CHARIS KID Diaper Changing Mat, you can now turn any surface into a changing table!
Grab a few of these portable, reusable, easy-to-wipe-clean changing pads and use them in the diaper bag, downstairs, public rest rooms, and in the cars!
Life made easy with this mat!!!
---
Share this Product
---