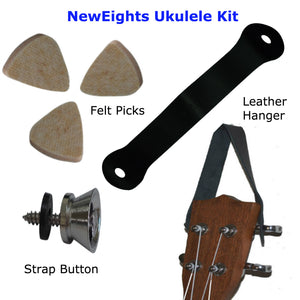 new8store
Ukulele Kit - Felts Picks, Uke Strap Button and Hanger Set Accessories Pack - Best Gifts for Ukulele Players by NewEights
Regular price
$ 9.99
Sale price
$ 29.99
Cyber MondayDeal - Stocking Stuffers - Slides over the tuning pegs and hang your ukulele, violin or other small music instrument on wall or door and keep them off of the floor where they take up space and run the risk of being bumped, nicked or knocked down.
PREMIUM UKE FELT PICKS - No more pain to strum your ukulele using finger picking technique.
UKE STRAP BUTTON - to fix your ukulele to any ukulele strap easily.
FITS MOST UKULELE -Fits Hawaiian Uke Soprano Concert Tenor
BEST GIFTS FOR UKULELE PLAYERS and 100% Money Back Satisfaction Guarantee! Also comes with a FREE EBOOK entitled "The Beginner's Guide for Playing the Ukulele"!
Do you want your ukulele to sound better but haven't found the right thing to achieve just that?
— Does your ukulele get frequently knocked off your desk or sat on because you don't have a proper place where you can put it?
— Do you get frustrated when it comes to buying expensive strap buttons to get your ukulele straps installed and waiting for your order to arrive?

Then There's No Need to Worry Anymore... The NewEights Ukulele Kit will solve ALL of that!

What does the NewEights Ukulele Kit contain?
1.) A Strong Premium Leather Ukulele Strap Hanger that frees up space in the house and ensures the safety of your instrument when it's not in use.
2.) Three High End Quality Ukulele Pure Felt Picks that greatly improve the quality of your strumming and are durable as well.
3.) An excellent Ukulele Strap Button that's very handy and easy to install.
4.) And a comprehensive ebook entitled "The Beginner's Guide to Playing the Ukulele" that will help you get started!

Why should you choose the NewEights Ukulele Kit over the others?
—We at NewEights take pride in providing HIGH-QUALITY musical accessories so you'll never go wrong with us!
—Also, we offer a 60-DAYS RISK FREE MONEY BACK GUARANTEE!

And guess what?! It is ON SALE NOW!
So what are you waiting for? Click the Yellow "Add to Cart" Button to Order Today!
---
Share this Product
---